YMCA Newcastle is preparing to launch a range of programmes and activities to support local 16-25 year olds from SPACE2…, the charity's inner-City youth project on Pilgrim Street. The project has been made possible thanks to funding from People's Postcode Trust, a grant-giving charity funded entirely by players of People's Postcode Lottery.
YMCA Newcastle have pledged to support a minimum of 80 young people out of poverty in the next 12 months by helping them to get jobs, cook healthy meals on a budget and manage their money. They will do so by providing Job Clubs, employability one-to-one sessions and independent living skills workshops covering cooking healthily on a budget and money management.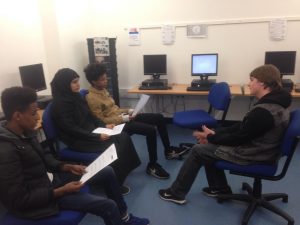 Above: Young people at SPACE2…'s Job Club practice their interview skills as they prepare for work
SPACE2… has a strong track record in helping young people into employment- last year 64% of beneficiaries who were unemployed went onto secure a job or an apprenticeship after attending the Job Club. With Newcastle's youth unemployment rates among the highest in the country, Jeff Hurst: Chief Executive of YMCA Newcastle believes that ensuring young people have the skills to lift themselves out of poverty is mandatory.
"This project will enable us to help 80 60-25 year old's to adapt to living independently and avoiding poverty. By helping them to gain employment, cook for themselves and manage their money, we can ensure that less young people experience poverty and it's harrowing effects".