Hello and Happy 2023 from everyone here at YMCA Newcastle! Our teams are back and eager to make this year even better than the last! It may have been a quiet month, but we've still got plenty to share.
Youth Work Team
This month our Youth Work Team have been continuing their important work of keeping young people within our community active, engaged and involved in various activities. They have also expanded their numbers with two new part time team members!
January was an important month for raising awareness of Sexual Health with STIQ day. This is also an important time to remind everyone, not just young people, to get regular sexual health checks. As part of this, we circulated the Condom of the Month poster on our social media and at the Youth Work Team's sexual health sessions for young people.
Community Team
Our Community Team have been sessions to help improve numeracy skills in Gateshead as part of the Multiply program. In preparation for this they  attended training sessions to help build their own skills. These include the Numeracy Champion training at Gateshead College and Identification and Brief Advice and Alcohol and Drugs training with Newcastle City Council.

Additionally, they participated in the Community Wellbeing Network East which was a networking event for organisations and charities in Eastend Newcastle to help them work together.

They have also been providing hot meals to people in our local community as part of our Winter Wellbeing campaign that we've been running since October.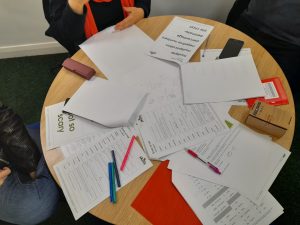 Charity Retail Store
Our charity retail store
YMCA Gateshead Charity Shop
is in need of donations!
If you have any unused furniture you think could be of use to them please get in touch! They'll take anything, sofas, beds, wardrobes, if you don't need it they'll take it!
They offer a collection service for Gateshead and the surrounding areas or you can bring any donations yourself to:
115-117 Trinity Square, Gateshead NE8 1BU.
They're open Monday-Saturday 9am-5:30pm and Sundays 10am-4pm.
Keep in mind safety tags must be attached to any upholstered furniture!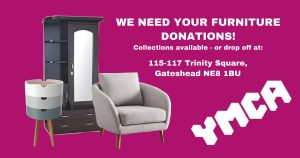 Other News
We're very excited to be introducing two new part time team members to our Youth Work Team! They'll be helping our Youth Team members during sessions and are both very eager to help give back to their local community. Keep an eye out for our next two Newsletters which they'll be featuring in for our Meet the Team section!
For more information on what we get up to, keep an eye on our website and social media, or sign up to our Newsletter using the form below!
Subscribe
YMCA Newcastle will use the information you provide on this form to be in touch with you and to provide updates and marketing. Please let us know all the ways you would like to hear from us:
You can change your mind at any time by clicking the unsubscribe link in the footer of any email you receive from us, or by contacting us at enquiries@ymcanewcastle.com. We will treat your information with respect. For more information about our privacy practices please visit our website. By clicking below, you agree that we may process your information in accordance with these terms.