Young people at YMCA Newcastle will be venturing into the past back to World War 1 to discover the lives of 100 young members of YMCA Newcastle who died while serving 100 years ago.
We recently discovered a plaque inside an elevator shaft in one of our former properties. The plaque is engraved with the names of YMCA Newcastle members who fought in World War 1 but sadly died whilst serving. Young people from SPACE2… will partake in a series of activities, research and trips to discover the lives of the 100 young men who died and present their findings to the public through an exhibition.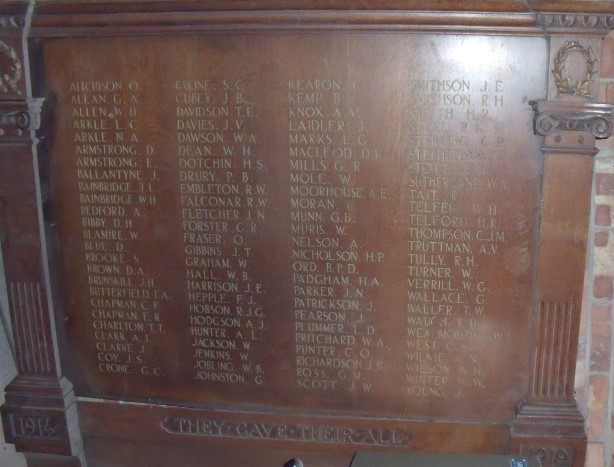 Above: The plaque commemorating the lives of 100 young men from YMCA Newcastle who died 100 years ago. The plaque was recently discovered in an old elevator shaft where it had lain for 40 years! Do you recognise any of the names on this plaque? If so we'd love to hear from you!
As part of the project, young people will visit the Lochnagar Crater as well as the site of the Battle of The Somme in Northern France. Several crucifixes made from Tyneside timber were found within the wargraves at Lochnager Crater, leading archaeologists to conclude that many of the soldiers who died there were from our region. A wooden crucifix monument made of Tyneside timber has since been erected at the site. Young people hope that visiting these battle sites will offer additional insight into the lives of the young soldiers who died in the war.
Over the next 18 months we will work with heritage partners such as Tyne and Wear Archives and Newcastle family History Centre to conduct the research and create a vibrant public exhibition about the 100 young men and the affects of World War 1 on communities in Newcastle. The exhibition will showcase all of the research the young people have gathered, as well as the unveiling of the plaque after it has been moved to its new, permanent location.
For updates on our journey make sure you follow our social media platforms. We will be providing updates on the young people's research, trips and exhibition planning as the project unfolds.
We're looking for information relating to the 100 names on this plaque. Do you recognise a name on this plaque? If so we'd love to hear from you!
This project has been made possible thanks to players of the National Lottery.