Redecorating, Residentials and Rowdy Kids
And another post immediately follows! Yes, I know my posting continuity leaves room for improvement. But I have a good excuse (or two or three) for uploading two posts in one day after an eternity of complete silence. It's been a few busy weeks, give me a break!
Excuse number one: Redecorating! I already mentioned in one of my earlier posts that I was given the exciting task to re-design an old office room and making it into a completely new space, meant for filming video diaries. So that's one of the things that kept me occupied!
I first measured the entire room and used a computer-aided drawing software called SketchUp to recreate the room digitally (Cheers to the most fun internship at the best architectural office ever for teaching me how to work these confusing programs). And then the fun began! I basically just played around with a few designs and interiors until I was happy with the outcome and got Jonny's and Maxine's approval (See outcome in gallery below).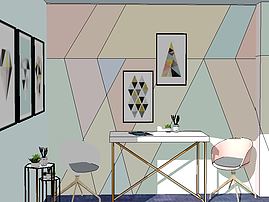 But that's where the less fun part began. Or rather what I thought would still be very fun, but turned out to be quite tedious. Once I had a list and prices of all the materials I required to put my work into reality and actually gathered them all together (which took way longer than expected), the work began. Only that I had to do it practically all by myself. Without any knowledge about how the heck to redecorate rooms, apart from the wise guidance I received
from WikiHow. And reading a willy-nilly article on how to do things doesn't quite qualify you as an expert!
Anyway, I spent ages filling in holes and little cracks in the walls, covering the floor with some very uncooperative kind of foil and taped all the edges of doors, plugs and skirting boards to cover them from splattering paint. Then I wiped down the walls with sugar soap to allow the paint to stick on better and could finally start painting the white undercoat. Which actually was kind of fun, for at least ten minutes.
Two layers of white paint and a set of ruined clothes and shoes (as well as numerous silent oaths to never touch a paint roller ever again) later, the main job was done. The next step was to tape the outlines of the geometric pattern to the feature wall, which I just finished a few days ago. Now I'm finally painting the feature wall and am hopefully done soon!
This all probably sounds like it could've been accomplished in just a few days – and somebody more experienced with more time and motivation might actually have done it in a week or so –, but that brings me to the next excuse.A whole bunch of new, hyperactive young kids had started coming into Space2 regularly and stirred up the place big time – Over 200 of them over the last three months, to be precise. When I first started, there was usually a maximum of around 20 to 30 young people coming in per day, all aged above 17 years, give or take. But now, the youth project teems with mainly 13- to 16-year-olds everyday. There were days where we've had up to 80 young people during the drop-in!
On the one hand, it is great to have a few younger ones in. They are cheerful, active and (at least some of the really young ones) just absolutely adorable! But then on the other hand, there's this little annoying thing called puberty, which at times makes them loud, rowdy, hyperactive and, to say it plainly, just completely nerve-wracking. Plus, they didn't really get the hang of respecting the place properly at first!
But now, a few weeks later, they've settled down a bit more. They (usually) treat the building with respect and have built some relationships, not only to the staff and volunteers, but also between the individual friend groups. Still, keeping an average of 50 yobs on track is more work than looking after 20 young adults, so the upcoming Volunteering Residential was a more than welcome distraction!
After a long time of anticipation, we finally met at Space on a Friday afternoon to drive to Deneholme House, a lovely guest house in the countryside of Hexham. Eleven YMCA volunteers and a six staff members would spend the following three days there, doing teambuilding activities outdoors and improving their youthwork skills during evening sessions.
Once arrived, all rooms were allocated and a warm dinner was had in the big cozy common area. Which was definitely necessary to prep us for the upcoming evening activity – the Mini Bus Game. Our two supervisors John and Spoggy drove us out in the countryside, where we would have to cover a distance of about half a mile by foot – Without being seen by them! While they drove up and down the road, trying to spot us with torches in the dark, we would hide in bushes, behind hay balls and sometimes (rather involuntarily) even in little streams whenever they came close. I absolutely loooved this game, I literally felt like Michael Scofield in Season 2 of Prison Break (Oops, Spoiler Alert, I guess) … And yes, he that praises himself spatters himself, but my fellow volunteer Daniel and me winning the game twice in a row was just too good to just not mention it, sorry!
And the activities in the following morning didn't lack excitement either, archery and tree climbing were on the schedule. While archery was good fun, tree climbing was definitely more to my liking … Although I couldn't really enjoy it while I was roughly 30ft up in a tree, only secured by a harness that I trusted much less than I probably could have. I would like to say that the view from up there is amazing, but nope, sorry, it was way more terrifying than pleasing. All the other volunteers agreed on that. Some were actually scared out of their minds, but they all really pushed themselves and climbed higher than they innitially would have expected, so everybody left the site feeling thrilled. And I loved it, too! I would have gone up a second time, but unfortunately we had to move on to do archery … Which sounds really unenthusiastic. But I really did enjoy it! The equipment was of a great quality, so everybody could really improve their peronal scores. Marnie, another volunteer, even managed to hit to balloons attached to the targets in a row, although she had apparently never done archery before (Witchcraft, I say)!
Being exhausted from the morning's happenings and completely stuffed from a big lunch, I nearly would have ditched the Ghyll Scrambling scheduled for the afternoon. Especially as it would involve getting cold and wet (And that with mediterranean 10°C outside). But in the end, I was so happy I didn't!
John and Spoggy drove us,, attractively squeezed into tight wet suits and helmets, to a beautiful gorge at Ash Ghyll and quickly instructed us on important safety rules and talked us through the route we would take.
We started off by getting into the ice cold water next to an amazing waterfall and then scrambled down the river, passing a few breathtakingly beautiful spots – And a few cliffs here and there that we had to jump off. Again, some people were not so keen on this prospect at first, but just as with the tree climbing earlier on, everybody really pushed themselves. Especially Jordon, who is usually dead scared of water and had until this day never even been in a swimming pool before, joined us for the entire scramble and even mastered a bit where we had to slide down some sort of 'natural stone slide' back first!
I personally cannot even begin to describe how excited I was during the entire scramble. And especially for the jumps and slides! I could have jumped off every cliff a billion times and never woud have wanted the trip to end, ever. Buuut although everyone really enjoyed it, most people were not just as hyper as I was, plus there was a warm dinner waiting for us … And it does get a little chilly after three hours of wandering around in cold weather and even colder water, especially as it had started raining too (Thanks, England).
So we headed back to Deneholme to have hot showers (I have never felt such bliss, seriously) and a little moment of relaxation before Sara, a former Space2 staff member, arrived at Deneholme to deliver a volunteer training, in which honest feedback was shared between volunteers and staff and a lot of ideas on how to improve Space2 as well as their volunteer programme were discussed and recorded (And only one week later already begun to put into practise)!
Finally, Sunday marked the last day of our Residential. After two tiring days, packed with outdoor activities and late nights chilling together in the common area, most people felt shattered and just wanted to laze around on this sunny laid back morning. Not everyone, though! Some mustered their last energy to head off to the nearby abandonded lead mine at Smallcleugh. Everyone was in awe as supervisor John navigated the group through the deep tunnels and deep pifalls … Or so I was told. Because I stayed behind with the other lazy layabouts. And had a nap. The best nap in my life. Ever. Shoutout to Danielle, who (FYI) is the comfiest human pillow in the world, by the way.
After everyone had packed their bags and the mine adventurers had come back – somehow two hours late -, we had a quick, very positive evaluation of the past few days and finally said goodbye to our amazing supervisors (as well as to their lovely dog Shadow, who got so excited to be cuddled 24/7 that he actually peed on Hannah) and returned back to Space2.
Can we make Residentials a monthly thing please?!
Stay up date with Lena's year at SPACE2… by reading her blog which she updates monthly.