With Christmas just around the corner, the season of giving is finally upon us! You may be bracing the crowds (or scrolling through Amazon) shopping for gifts and stocking fillers for loved ones, or you may be considering which charity to make a donation to this year?
Well, we have an innovative way you can fulfil two needs with one deed! Read on to find out how we've got you sorted this Christmas,.
Our social enterprise, Urban Mushrooms, produces DIY grow-at-home mushroom kits which make a really unusual, unique and hands-on gift. Our grow kits come ready-to-grow in a sleek Grow Box that looks great on your kitchen counter. All you need to do to grow your own delicious pearl oyster mushrooms at home in just 2 weeks is water daily with the water-mister provided, and watch your bouquet of mushrooms double in size every day!
Then you're all set with gourmet mushrooms at home for you to use in your culinary creations. There's loads of ways to cook your mushrooms and you'll have plenty of time to think about it while they grow, but if you're stuck for ideas, check out the recipe card included in your Grow Box.
The perfect gift for green-fingered gardeners, foodie fanatics or anyone who likes something a little bit different.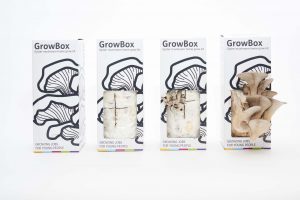 So thats the gift sorted, what about a charitable donation? Well, every Grow Box purchase is reinvested into YMCA Newcastle's work with young people. You won't just be buying a gift, you'll be supporting a local young person in need.
Buy your Urban Mushrooms Grow Box now, click here.
Looking for a corporate gift to thank your clients or employees with this Christmas? Email us at enquiries@ymcanewcastle.com to discuss deals and discounts applicable to bulk order.