We've recently rediscovered a plaque commemorating the lives of 100 young men that lost their lives fighting in the 1st World War. The plaque has been stored in a lift shaft in one of our previous properties for the past 40 years. Thanks to funding from the National Lottery and to commemorate the centenary of the end of WWI young people from SPACE2… will be creating an exhibition inspired by the plaque and visiting locations of battle sites in northern France to find out the role young men from Newcastle played in the war.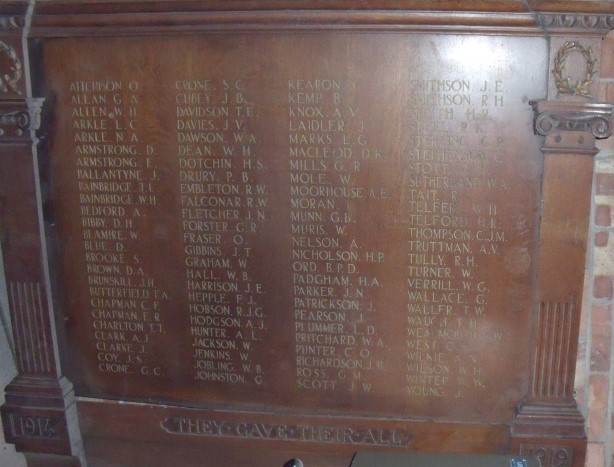 As part of the project the young people will be researching the names included on the plaque, this is where you can help us! Do you recognise a name on the plaque? Could you be related to one of the young men mentioned? If so, we'd love to hear from you. As part of the exhibition the young people are planning we'd like to include details and stories about the men that were once part of YMCA Newcastle.
Please take a look at the list of names below, if you recognise one of the names and information about any of the young men that you'd like to share please contact us at 0191 2765327 or email; calvin.bateson@ymcanewcastle.com.
Names included on the memorial plaque (some names may be misspelled, some research has already been carried out for the first 10 names on the plaque);
Oswald Aitchison
Albert G Allan 
William H Allen
Norman Armitage Arkle
David Armstrong
Edward (Eddie) Armstrong
James Ballantyne
Wilfred Hudson Bainbridge
Thomas Lindsay Bainbridge
A. Bedford
D. H. Bibby
W. Blamire
D. Blue
S. Brooke
D.A. Brown
J.H. Brunskili
D.L. Butterfield
C.I. Chapman
L.R. Chapman
L.T. Charlton
A.J. Clark
J. Clarke
J.S. Coy
G.C. Crone
S.C. Crone
J.B. Cubey
T.L. Davidson
J.V. DAVIES
W.A. DAWSON
W.H. Dean
H.S. Dotchin
P.B. Drury
R.W. Embleton
R.W. Falconar
J.N. Fletcher
G.R. Forster
O. Fraser
J.T. Gibbins
W. Graham
W.B. Hall
J.E. Harrison
F.J. Hepple
R.J.G. Hobson
A.J. Hodgson
A.L. Hunter
W. Jackson
W. Jenkins
W.B. Jobling
G. Johnston
C. Kearon
B. Kemp
A.V. Knox
I. Laidler
L.C. Marks
D.R. Macleod
G.R. Mills
W. Mole
A.E. Moorhouse
T. Morgan
G.B. Munn
W. Muris
A. Nelson
H.P. Nicholson
B.P.D. Ord
H.A Padgham
J.N Parker
J. Patrickson
J. Pearson
L.D. Plummer
W.A. Pritchard
C.O. Punter
J. E. Richardson
G.M. Ross
J. W. Scott
J.E. Smithson
R.H. Smithson
H.R. Smith
P.R. Still
G. Stephenson
J.W. Stott
A.N.D.W.A. Suther
R. Tait
W.H. Telfer
H.R. Telford
C.J.M. Thompson
A.V. Truttman
R.H. Tully
W. Turner
W.G. Verrill
G. Wallace
T.W. Waller
T.H Wauch
O.W. Weadmouth
N. Wilke
W.H. Wilson
R.W. Winter
J. Young